@ripato via Unsplash
A coat of paint could turn your office into a productivity dojo.
Researchers at the University of British Columbiaran a study to see whether looking at the colors blue or red could meaningfully impact task efficiency. Here's what they found.
For Skimmers:
Researchers had a group of participants complete a battery of tasks after having been exposed to eitherred or blue.
Individuals who viewed the color red performed better on tasks that measured precision (detail-oriented tasks), while individuals exposed to blue performed better on tasks that measured creativity (flexibility-oriented tasks)
Harnessing the power of color is an easy way to enhance your performance. Surround yourself with the color best suited to your task and you could give yourself a competitive advantage.
Red Thought, Blue Thought
Take a look at the charts from the study below. Red is clearly better for boosting accuracy, while blue has the edge when it comes to inducing creativity.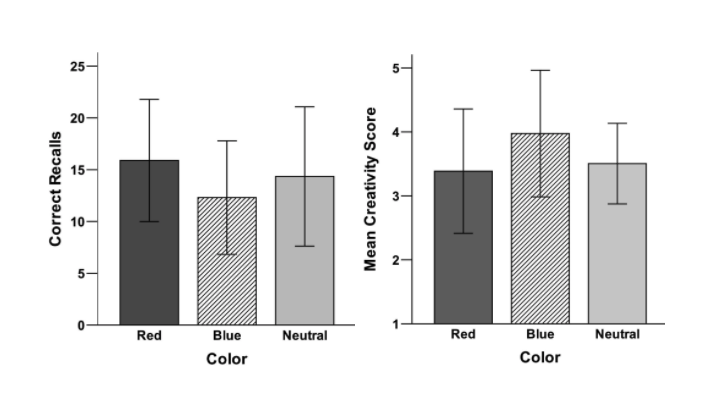 Why? The answer is different for each color. Let's examine red first.
In our society, red is the color of attention. Red lights tell us to stop. Red pencil tells us we've made a typo. Red warning signs tell us of danger. If there's something that needs our focus, its existence is usually marked with a ruddy hue.
Need to point out a problem? Tell someone you've found "a red flag."
Because of this association, red seems to activate a subconscious, detail-oriented mindset. When we see red, we sharpen our focus to look for danger or a mistake. The color and the concept are so tied together that when we see one we expect the other.
The detail-oriented mindset is great for catching typos or other focus-heavy tasks. If you want to copyedit a spreadsheet or fact-check a list, setting your background to crimson could help keep your mind keyed in on the details. Red's attention-boosting properties have been confirmed by other studies, including one that found that individuals who grade papers with red pens catch more mistakes that those who grade papers with a black pen in hand.
Blue, on the other hand, is the color of freedom. From the endless azure sky to vast cobalt ocean, the color has a strong association with openness and tranquility, a finding that is supported by related research.
That's why blue is the perfect color for creativity. Instead of activating a detail-oriented, close-focus mindset, the color blue activates an open, flexibility-oriented mindset. Blue is brainstorming's best friend.
If you want to upgrade your productivity, match your task with the tint of your surroundings.